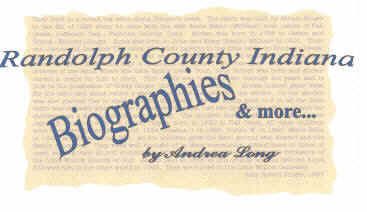 This web-site is a jump site for your genealogy research in Randolph County, IN.
Please Click on a button to go t your destination of choice.
And don't forget to bookmark this page as a favorite so you can come back again and again.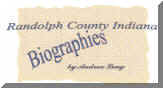 Randolph County IN Biographies


Randolph County IN GenWebProject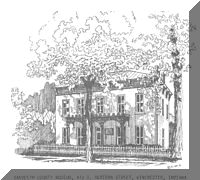 Randolph County IN Historical Society, Museum and Genealogy Center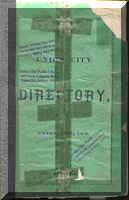 the 1875 Union City IN OH Directory NEW!

the 1877-78 Union City IN and OH and Winchester IN Directory/Gazetteer Coming Soon
this one is in poor condition, no cover exists. Only a 30 + year old static copy exists to us.
the 1884 Resource and Industries of IN for Wayne, Henry, Delaware and Randolph
Counties coming soon!
the 1893 Union City OH and IN Business Directory New!
1900 Union City IN and OH Directory coming Soon!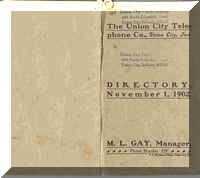 the 1902 Union City Phone Book New!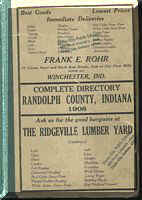 the 1908 Randolph County IN Directory
the 1912-13 Randolph County IN Gazetteer Coming Soon!
the 1919 Randolph County IN Gazetteer Coming Soon!
This web-site was originated on April 28, 2005, and was designed and published by Andrea Long.
This web-page was updated on December 31, 2005 and more is coming.....